Turnkey Solutions

for General Contractors in the Upstate and the Carolinas
We partner with general contractors in the Upstate and surrounding area providing superior work, and building relationships based on trust that lasts lifetimes.
Demolition
Metal Framing
Drywall
Acoustical Ceilings
Interior Specialty Items
Exterior Specialty Cladding & Rainscreen
We are flexible partners offering our skills and expertise throughout the life of your project. We can start at the beginning with the design team, or jump in after the design documents are completed. Regardless of when you call, our adaptive team is ready to help you finish on time and within budget.
Committed to Serving and Improving the Building Process
At Freedom Interiors Group, we are committed to helping you complete your project—no matter where in the process you are. We meet alongside owners, contractors, architects and interior designers to help define the intent of the build. Using our knowledge of the industry to choose appropriate materials and technical design aspects, we help you work through budgets, building quality estimates and time lines to develop a full  and complete package.
Estimating and Developing Budgets
Some of our projects start in the bidding phase after the design is completed.  Plans are sent to our estimators electronically, loaded in our on-screen takeoff software where we do our quantity takeoffs and develop overall scope. These are then linked into our bidding software where we allocate bid dollars to quantities and develop overall budgets.
We can help by offering optional value engineering ideas or maintain the initial scope as shown on hard bid projects. Through this phase, you can expect the estimating team to be on your side.
Project Management in the Office
and the Field
After a project is awarded with a contract or initial letter of intent, the project is then sent to the project management phase. The manager will review the contract and scope before sending to upper management to sign, prepare project submittals, develop internal budgets and requirements with accounting, and schedule manpower according to the start date. Any specialty items or long lead items will be addressed at that time. A field foreman will also be assigned to manage the day to day operations, material managements, daily assignments, and manpower requirements.
Demolition
Freedom Interiors is a partner in your demolition needs. We offer a large variety of demolition services including:
Interior floor surface removal (vct, carpet, quarry tile, carpet tiles)
Interior walls
Ceilings
Metal Stud Framing & Drywall
Executing accurate framing sets the entire build up for success. We combine the highest quality products with our skilled framing contractors to offer any framing and drywall solution needed.
We offer interior metal framing of:
Walls
Ceilings
Soffits
Radius walls
Specialty shapes
Load bearing and non-load bearing framing of structures
Batt insulation
Spray foam insulation
Our drywall services include drywall installation including specialty drywall products:
HI impact
Abuse resistant
Shaft wall
Ballistic board
Foil backed
Lead-lined
Drywall finishes
Acoustical Ceilings
We offer acoustical ceiling solutions that range from economical 2×2 flat tile and grid to 4×4 specialty ceilings to fit any budget and design. We also can provide superior acoustical support and design elements with featured products such as wood ceilings and other acoustically modified ceiling products.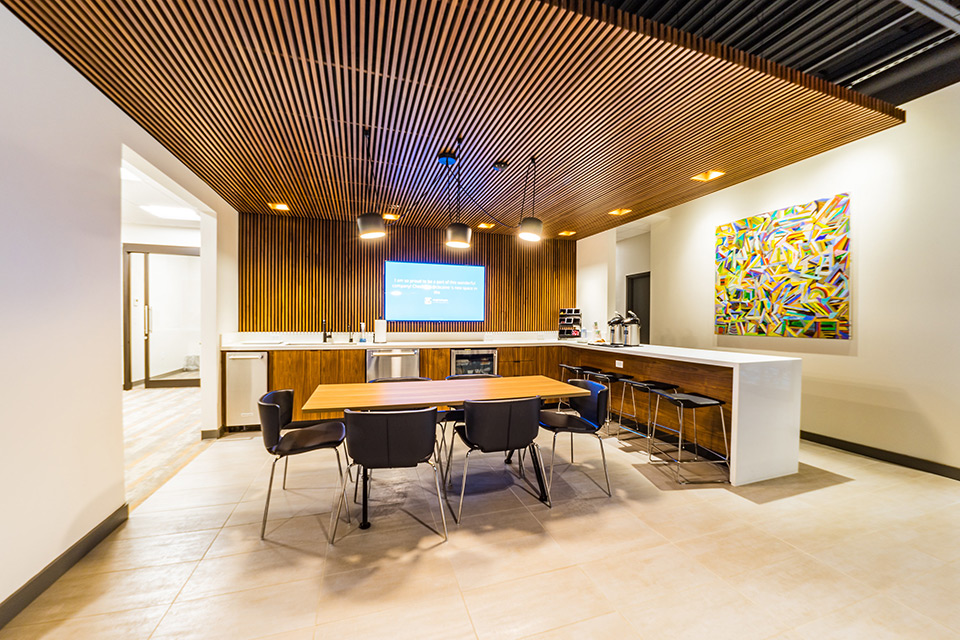 Interior Specialty Items
We offer complete solutions for interior specialty items that fit any design and can custom create solutions when there is no design.
Acoustical wall/ceiling panels
Wood walls/ceiling panels
3D Art panels
GRG
GRFC or metal decorative wall art
Column enclosures
FRP
Other various wall protection panels
Exterior Specialty Cladding & Rain Screens
The exterior of your building is not only crucial in maintaining the life of the building but in creating a lasting first impression. We team up with the design team and contractors to figure out what cladding best fits the design intent and budget. Each design requires different products, but some of the most common we work with are:
EIFS
GRG/FRP molds with stone finish and automotive finish
Low/Medium and High-density Fiber Cement products
Metal cladding panels
COMMITTED TO SAFETY
We are your reliable, trusted, and SAFE partner.
At Freedom Interiors Group our commitment to safety starts from the leadership and extends to all employees. It is our mission to keep our employees, and those working around them, safe. We do this through proper training, individual PPE, safety equipment and tools, safety meetings on and off site, and personal responsibility code with each individual.
Keeping safe is at the forefront of what we do every day and has kept us in line with OSHA regulations. We have never received a citation from any OSHA job site visit.
Our current EMR is .86.
Let us help make your next project an excellent one.
Please contact us for your next project.